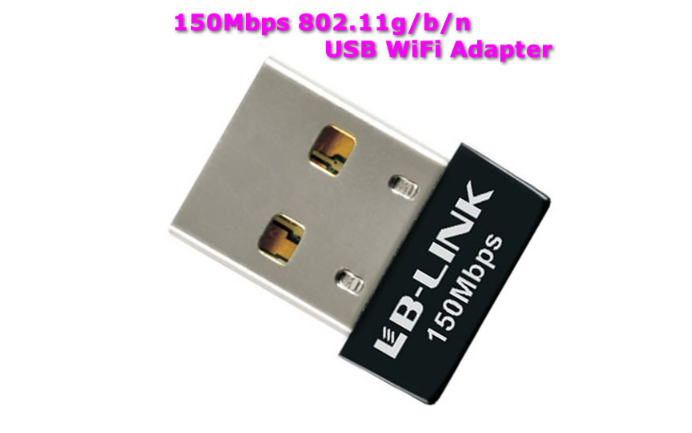 Подробнее о пакете драйверов:

Тип:

драйвер

Имя:

LB-Link BL-LW05-5R2 150Mbps Mini Nano USB Wi-Fi Adapter Driver

Производитель:

LB-Link/Realtek

Версия драйвера (программы установщика):

1086.49.0522.2012, 1021.3.0912.2012

Операционная система:

Windows XP

Windows Vista

Windows 7

Windows 8

Разрядность ОС:

32-bit (x86)

64-bit (x64)

Размер файла:

27 mb

Дата выхода:

2012-05-22
LB-Link BL-LW05-5R2 150Mbps Mini Nano USB Wi-Fi Adapter Driver . Характеристики драйвера
Драйвер для беспроводного USB адаптера LB-Link BL-LW05-5R2 с чипсетом от Realtek. Предназначен для автоматической установки на Windows XP, Windows Vista, Windows 7, Windows 8.
Для установки необходимо распаковать архив и запустить - Setup.exe.
Характеристики устройства:
Поддержка 64/128bit WEP, WPA-PSK /WPA2-PSK and WPA/WAP2 encryption methods
Поддержка IEEE 802.11g, IEEE 802.11b, IEEE 802.11n standards
20MHz/40MHz bandwidth
Поддержка two operation modes: Ad-Hoc and Infrastructure modes
Automatically detect network status and transmission rate
Поддержка WPS one- key encryption to quickly protect wireless network safer
Поддержка roaming to ensure the efficient connection of wireless
Поддержка WMM, which makes voice and video process play smoothly
Простая инсталляция, plug and play, very convenient
Поддержка Windows XP/Vista/7/8,Linux,MAC,Win CE
Внимание! Перед установкой драйвера LB-Link BL-LW05-5R2 150Mbps Mini Nano USB Wi-Fi Adapter Driver рекомендутся удалить её старую версию. Удаление драйвера особенно необходимо - при замене оборудования или перед установкой новых версий драйверов для видеокарт. Узнать об этом подробнее можно в разделе FAQ.
Скриншот файлов архива

Файлы для скачивания (информация)
Поддерживаемые устройства (ID оборудований):
Другие драйверы от LB-Link